Building Use Policy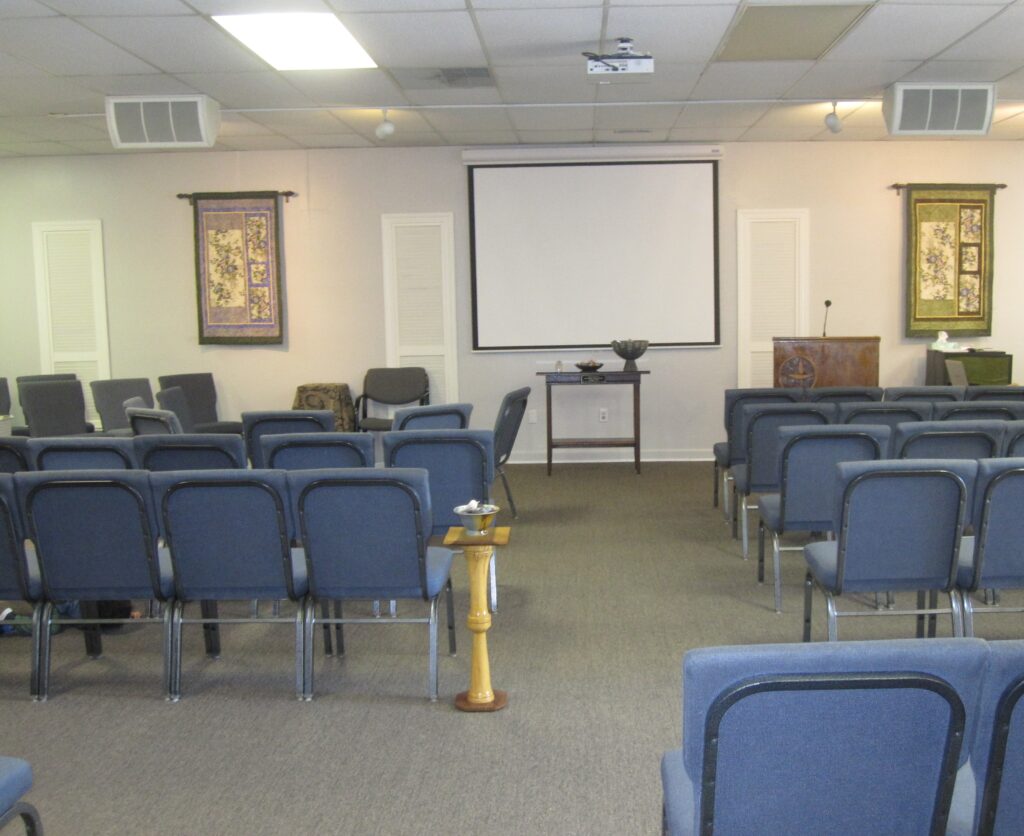 Building Use Policy
UUCG's building is a valuable community asset and will be made available to groups whose activities are consistent with UUCG's mission. Congregation groups and activities have priority over outside groups and all-church activities have priority over the activities of specific church groups. Funeral or memorial services for members and/or their immediate family will be given priority at the discretion of the Minister or the President.
The Building and Grounds Committee Chair shall be responsible for issuing keys to the building and facilities and maintaining a record of who has been issued keys in a database accessible to the Board. The chair shall change the combinations on locks at least bi-annually, or more frequently if judged appropriate.
The Building and Grounds Committee is responsible for recommending rental fees. Rental fees will be based on actual costs to own, staff, operate and maintain the Church, with consideration of comparable fees charged by other churches. Fees will be reviewed at least every two years. The building use contract will specify rates, UUCG and user responsibilities, and access. Insurance shall be required for use not covered by the church's policy. UUCG may request a deposit against damage, as defined in the use agreement. The Building and Grounds Committee Chair, in consultation with the Board, shall be responsible for determining if the use is appropriate.
The Building and Grounds Chair will be responsible for maintaining a calendar of building use, and securing written contracts for building use. A calendar of events, preferably covering the current and upcoming month, will be prominently displayed inside the building. The Treasurer shall be responsible for collecting fees. The Building and Grounds Chair is normally the contact for scheduling and maintaining a calendar of building use. Each user should complete a rental agreement.
Tax laws discourage churches from renting to for-profit groups and from making a profit on building use fees. Non-profit groups may request free building use or use at reduced fees. The Building and Grounds Chair has authority to evaluate and grant such requests. In case of questions of whether an applicant is an appropriate user of UUCG's building, the decision will be guided by whether the applicant's mission is consistent with UU values and purposes. The UUCG building may not be used for partisan political meetings for specific candidates or parties. Members in good standing may have free use of the building for weddings, ceremonies, and memorial services for themselves or members of their immediate family. Fees may be charged for use of the kitchen.
General requirements:
Alcohol: Alcoholic beverages may not be sold. Only wine, beer, and/or champagne may be served as the sole responsibility of the group or individual user. User assumes responsibility for compliance with laws pertaining to alcoholic beverages and the sobriety of guests. See alcohol policy earlier.
Equipment: UUCG tables and chairs are available as part of the use agreement. If rental equipment is needed, the user is responsible for coordinating delivery and set up. Use of electrical equipment is limited to, and must be compatible with, the existing 20-ampere circuits available. No special hookups are permitted or authorized. User must return the room to its preexisting status by the agreed-upon time.
Building users may have access to UUCG easels (but not flip charts), sound system, TV, VCR, or projector and screen if agreed upon when the building use contract is signed and with three conditions. Specific permission must be given for use of the sound or video system. An approved member of the Congregation or staff must operate the system. Finally, UUCG charges an additional fee to cover maintenance and staff expenses for such equipment.
Kitchen: Applicable fees, if any, apply to kitchen use for events such as pot luck dinners or food preparation by a caterer. Guidelines posted in the kitchen must be followed. User is responsible for clean up and return of used items to the appropriate places.
Furniture Movement: Unless other arrangements are specifically made, the renter is responsible for moving and returning furniture to its original position.
Piano: Written permission and payment of a use fee is required for use of UUCG's piano. The piano may not be moved without advance permission. If desired, the piano will be tuned for additional amount of $90.
Litter and debris: No loose confetti may be used. Potpourri, birdseed, or rice may be used outside only. Candles must always be in non-flammable holders to avoid wax on the floor or chairs. Users are required to clean up after events. Trash must be removed from the building.
Noise: Renters are expected to honor city noise control codes.
Parking: Parking is permitted in the UUCG parking lot or on the street. User should not park or drive across the lawn between UUCG and adjacent buildings.
Smoking: Smoking is not allowed inside any church building space. Smokers are requested to not smoke within 20 feet of entrances and to properly dispose of cigarette/cigar butts.
General Behavior: Users will extend full courtesy and consideration to others in the building. Users are responsible for the behavior of their children and shall not leave any child(ren) unsupervised. For safety reasons, children may not enter or use the Religious Education rooms unless a child care provider is present. If the Religious Education area is used, all matches, lighters, sharp items, or other potentially harmful items must be moved to a high or inaccessible location at the end of use. All exterior doors shall be left locked and lights (except the one marked) turned off when the building is unattended.
Compliance: The Building and Grounds Chair, or a designated church member shall monitor for compliance with these policies.